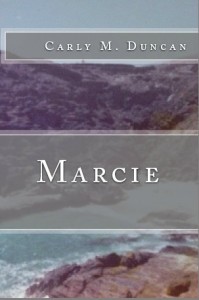 Marcie
by Carly Duncan When Kate's mother, Marcie, dies mysteriously she is forever tormented by the many questions surrounding her mother's death. In Marcie's absence Kate clings to her mother's husbands, searching for solace. As family secrets are revealed Kate works to build her own life and family, but the mystery of her mother's death sidetracks her until she finally gets the answer she's always hoped for.
Amazon
|
Goodreads
Interview:
1. How did you get your start writing?
I've been writing for decades without noticing that I was harnessing a particular skill. Writing, for me, started with short stories - usually about something that happened to me on a particular day, something I felt I could make entertaining, but also something I wanted recorded for myself. I'd send these stories in an e-mail blast to friends and family and was always surprised when people were happy I had shared. Writing became something I not only enjoyed, but realized I should do more of in a more purposeful capacity.
The particular story of Marcie started because it's a real mystery in my life - at least one I always entertained as a true mystery. The story is based on my own grandmother's mysterious death. For me, telling this story was about exploring a part of my indirect past as well as closing a door to the never ending wonder of what happened. Once I started, I couldn't stop. I knew what my ending was and the rest was easy to make up along the way.
2. Do you have a writing routine?
I'd like to say I have more of a routine, but I don't. I try to write in some capacity for at least thirty minutes a day. Sometimes I get to it. Sometimes I don't. Sometimes I'm able to devote more time to it. I try not to be so scheduled with it because the pressure of producing, for me, destroys what I love most about finding my characters and stories on paper.
3. What authors do you love to read?
I love reading the classics. I'm revisiting the Western canon now and am very much enjoying stories from Willa Cather and Edith Wharton. When I need a quick story that will also give my mind something to work around, I always turn to Agatha Christie. I can't shy away from a good mystery. I also love Paulo Coelho. I haven't read his latest yet, but his general messages explore peaceful, self- improvement themes that usually leave me inspired.
4. Do you have a certain snack you love to eat while you write?
I don't snack when I eat. I hate getting crumbs anywhere near my computer - or dirty hands while typing. I have OCD. Even thinking about it gives me a panic attack. (Sort of joking, sort of not.)
I have a completed another fiction novel called, Behind You. It needs a few rounds of revisions and an edit, but I hope to release it in the Spring of 2014.
Thanks so much for stopping by the blog today Carly!!!
More about Carly below :)
About Carly:
Carly Duncan is a television producer by day and a writer whenever there is time. She lives with her husband, two daughters and beloved Westie in Brooklyn, New York.
Follow Carly:
a Rafflecopter giveaway
Follow the Tour